Aquatic Facility Operator (AFO)
Juliene Hefter is an instructor for the Aquatic Facility Operator (AFO) Course offered through the National Recreation and Park Association. She teaches courses throughout the the United States.
The Aquatic Facility Operator (AFO) Course is an 2 day training program specifically designed to meet the needs of those working in public and semi-public recreational pool or water park facilities. The AFO program offers unique discussions on risk management, not usually directed towards operational personnel. Upon successful completion of the AFO course and a 50 question exam, participants will be officially certified by the National Certification Board of NRPA. Certification is good for * 5 years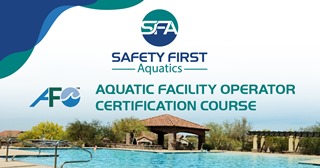 ---
Practical Pool Management PLUS
Practical Pool Management Plus is a fast-paced 16-hour certification program for anyone operating a pool or waterpark, including aquatic directors, pool maintenance staff, hotel/motel staff, and others in the "pool business."
Juliene Hefter is one of only 3 current instructors that teaches the course. Practical Pool Management Plus provides an in-depth analysis of the most important topics in pool operations, maintenance and safety, including circulation, filtration, chemistry, recreational water illnesses, safety and risk management. PPM Plus moves beyond traditional calculations and mathematics to provide the pool operator or manager not only the basics of pool operations but also a comprehensive look at operating an aquatic facility.
Basic Pool Topics Include:
Circulation: Pumps, Pipes, Outlets
Filtration: Sand, D.E., Cartridge
Backwashing
Water Chemistry - Disinfection and Sanitization: Chlorine, pH, and Alt. Sanitizers
Breakpoint and Superchlorination
Water Balance
Controllers
Chemical Adjustments
Spas and Special-Use Pools
Design Considerations
Risk Management
Chemical Handling and Safety Precautions